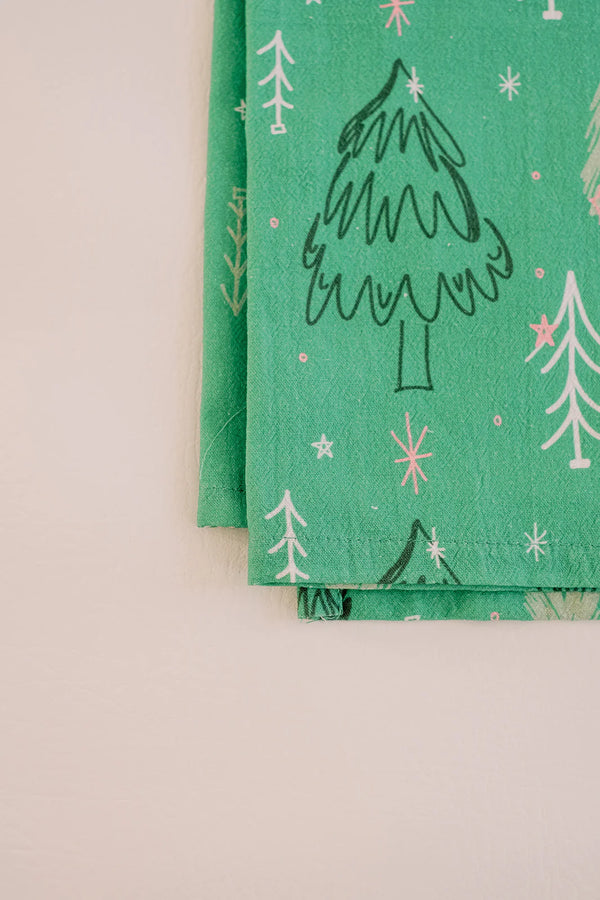 These cute little hand-illustrated trees are JUST what our hearts needed for the season. We are so excited for this towel to hit your kitchen. Our Full Pattern Winter Trees makes a statement with this gorgeous shade of green; perfect for your oven handle or for hanging by its loop next to your sink.
Some special things to note about this flour sack towel:
28 x 29 inches of absorbent (and adorably designed) flour sack cotton 

Pattern covers ENTIRE towel

Digitally printed with water based inks

Loop on the back corner for hanging on hooks and knobs

Please note that since the fabric of these towels is stretchy & soft, not every towel will be the exact same size or a perfect square

Comes folded and packaged with a belly band, prepared to add a warm touch to your kitchen
Washing your full pattern towel in cold water, and allowing it to air dry is a great way to ensure the longest and most vibrant life for the design on your towel! Flour sack towels have a texture that makes them extra absorbent in nature. This texture can cause some flecks of missing color here and there on the full pattern designs - this is part of what makes these towels unique!
Lily and Sparrow Signs
Here's the nitty gritty about our signs:
Each and every sign is made by hand in our workshop in Winneconne, Wisconsin. Yep, handmade right here in the USA. Since each sign is handmade, they can vary slightly from the photo that you see listed. No two signs will be alike, but this is what makes each sign unique — they're truly one of a kind. You can expect to see the wood grain through the paint, stain and ink since our signs are made out of wood. We use wood, stain, ink, nails, glue and a whole lot of love in our signs.
If you'd like to learn more about how they're made, click here.
Frequently Asked Questions
Do you take custom orders?
Unfortunately, at this time we do not take custom orders. If anything ever changes in the future, we'll be sure to let you know — so make sure to sign up for our e-mail newsletter or follow along on Instagram or Facebook!
I just placed an order! When can I expect to receive my sign?
Yay! We ship our signs out from our warehouse within 3-4 business days (Monday-Friday). We ship via USPS or UPS, which takes another 1-5 days. You will receive a tracking number with your shipment unless otherwise noted.​
Where can I find your signs in person?
There are two ways you shop our signs in person: at markets or at one our wholesale partners shops. To find where we are going to be at markets, you can click here to see our 2023 Market Schedule.
​Do you offer local pick-up?
We sure do! If you are local to Winneconne, Wisconsin or Neenah, Wisconsin you may opt to pick-up your orders at our warehouse or brick and mortar shop. Orders will be ready for pick-up within 3-4 business days. When you are checking out, please leave a note at check-out that indicates which location you'd like to pick-up from. Then select "Pick-Up" at check-out and then you will receive an email notification when your order is ready to be picked up! Our warehouse hours are Monday through Friday from 8-4pm and our retail storefront hours are Tuesday through Saturday from 10-4pm.
​Do you sell wholesale to small businesses?
Yes! We would love to partner with you. You can start by filling out our application here and we will get back to you within 48 hours. We sell through our website and through Faire. Once we get back to you, we will send you all the information you need to carry our signs!
​Do you offer gift wrapping?
Currently, we do not offer gift wrapping. We would, however, be willing to place a personalized card in your order! Please leave a note when you are checking out and we would be happy to include a note in your order.
How do you make your signs?
Our signs are entirely handmade by us in our little shop. Read more about them by clicking here!